Article: CVC CAPITAL, MUMBAI
CVC CAPITAL, MUMBAI
BUROSYS outfits the office of CVC Advisers India, in Worli, Mumbai
Burosys specialises in premium quality, efficient furniture for the contemporary workspace
Established in 1981, CVC is a world leader in private equity and credit with $79.6 billion of assets under management, $135.8 billion of funds committed and a global network of 23 local offices: 15 across Europe and the Americas and eight in the Asia Pacific region.
CVC Advisers (India) Private Limited, knew its South Mumbai flagship Grade A location deserved a modern, visually interesting design. The Lexington desking system helped achieve just that. 
Associate Ravi Desai was the project head at Mihir Thaker Architects who worked with CVC Advisers India to create a palette for the space that suited their international office and and one that was visually dynamic. Using a combination of dark, elegant and smooth materials, the Lexington deskills system from Burosys was able to provide a vibrant and uplifting palette for the office space. 
The design intent was to create an ambience that reflected the ethos of modern day work culture. Overlooking the Worli skyline, the firm's office is located in one of the most upscale buildings in South Mumbai, Ceejay House. The language for the furniture proposed was distinctively bold and minimal. Beyond decorative decisions, getting hands-on with Burosys helped the client see how the various elements of the furniture could be pieced together and perform in various settings.
Modular furniture with aluminium chrome legs and ultra-smooth Italian laminates, adds uniqueness to the whole set-up. The conference room has a circular table that heightens the sense of space within the room. At the same time, the glass wall allows access to the spectacular view of the sea and outside greenery, creating a relaxing atmosphere overall. The projector screen with meticulously arranged plants on either side quells the impression of disquiet associated with boardrooms, without removing business from the equation.
In contrast, the second conference room has a rectangular table that promotes the perception of enclosure with defined edges and close-knit walls. This carefully placed furniture encourages the visitor to feel a sense of closeness. The table tops are designed with super matte panels which are extremely soft to touch. Finally, the visiting room makes use of dark and light tones to create a neutral space with enough room to dispel any sense of compartmentalisation.
Mihir Thaker, designer of the project 'CVC', says, "BUROSYS has the intrinsic value to translate the design intent and client DNA into aesthetic and functional furniture offerings. It takes generations of DNA to become super specialists at what they do."
Burosys' strategic usage of furniture gives the rooms their unique character. The aura created is that of productivity and professional sophistication.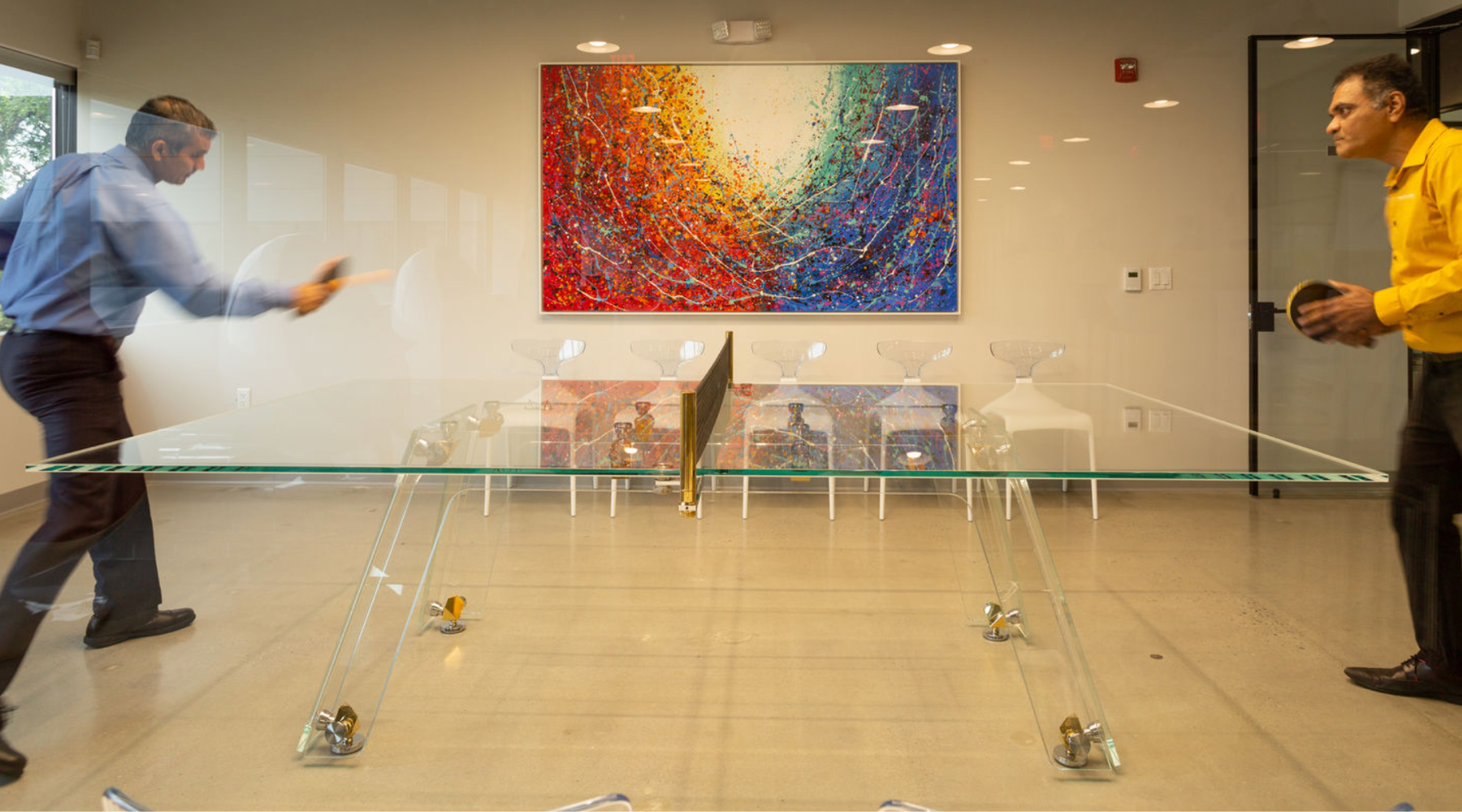 Projects
Recently one of the largest jewellery exports in the USA have done up their office in New York. Their 100,000 sqft was planned keeping in mind that they wanted as much openness as possible, un clut...
Read more